Sure enough,
for the second year in a row
, Christmas went a little differently than we planned.
The best laid plans...
I know, I know. That's why I truly am refining the
art of holding it loosely
.
Instead of putting our packed by-the-door bags and tub of lovingly wrapped gifts to good use in the van's NC-or-bust trunk, we busted. We hunkered down. I refilled cups of electrolyte fluids, humidifiers of water and eucalyptus oil. Rubbed menthol on little chests, administered honey and lemon and cherry bark herbs and pink goo around the clock. Held buckets, swept strands of hair, took temperatures, continuously changed out movies, gave away early Christmas books and art tablets, read lots of "Little House," prayed and kept the washing machine humming and slept on the floor beside warm bodies.
You know, I was a Mom.
Though I hate to see my babies sick, there has been something special about all five of us sharing such an intimate space over this time period. I mean we were living large by Saturday when a full day consisted of one short bundled up walk around the block, just a few DVD changes, the construction of cardboard box fairy houses, and several animated rounds of "Go Fish."
Come Christmas Eve and beyond, however, when we actually felt a good deal better... I couldn't help but recognize it, deeply and wholly. Healing breaths of an important message, that touched me way down where it counts.
Feeling good enough to bake and decorate our cookies and Jesus' birthday cake. Yes!
Love came down at Christmas.
That thought is deeply and wholly divine.
****
:: Sister Store took on a little different twist this year, to fit the theme that emerged, but we still earned us some "giving bucks" so each could shop for her sister up in the attic's "botique." Again, the gifts from one another were hits as well as the self selected wrapping creations.
Veggie Tale shirts! Christmas pj's were ditched the moment each received a shirt from one of her sisters. Such great hugs and thankyou's.
:: We try to stick to three gifts each for the girls, sometimes with one bigger shared gift and a handful of stocking stuffers. I have been searching for this year's shared gift for three years now on Craigslist when, finally, what to my wondering eyes did appear?!
Wish I had been on the other side to capture their faces! A real, wooden backyard playhouse (brand new in the box and talked down to a wonderful steal.) Yippee!! I *always* wanted a tree house or such when I was little. Thanks to Grandpa and Grandma for going in on half of this treasure!
:: The day was spent together, playing and discovering. We may not have been able to see our family, but we talked a good bit here and there on the phone with those we love. Neighbors popped by bringing thoughtful gifts to the girls. One was from sweet Mr. Fred, an elderly neighbor who fell off his retaining wall a while back as he was mowing, and the girls never forgot to pray for him until he made it back home. Now he remembers the girls at every holiday with a card and a couple dollar bills stuffed inside. It is precious. For Christmas he included a handmade wooden Holy Family, and we really love it. It is joy to my heart to see community every new place God plants us, little glimpses of Heaven- the place where all will be family even beyond shared DNA.
A few other little favoritey favorites:
1. Traditional Christmas morning fare. 2. They loved their gift tags, sweet girls. 3. I love stuffing the stockings. 4. My favorite stuffer to make and theirs to devour. 5. Hope's "Super Why" reading wand. 6. Maddie's doll with earrings, a necklace, and removable Mary Janes. 7. Alysse's Big Sister Dora with the twins... here the brother is being properly introduced to Baby Jesus.
But beyond the wrappings and shine, of course we celebrate the reason why such lavishness can be ours. That every perfect gift is from Him,
the very definition of love
. I celebrate, best of all, the gift of love that pulses within these walls.
A Daddy who, when his eldest finally feels like eating and really wants Chicken Minis for breakfast, rushes out to Chick-Fil-A in his pajamas and without a coat. When his 10:34 arrival proves too late he sweet talks the employee into some empty cartons, the butter they use, and some nuggets. Then he picks up take-and-bake yeast rolls, sneaks in through the back door, and concocts a delicious imposter. She couldn't each much, but she sure loved them.
And one day I will love telling her the real story.
So thankful for our cozy, creative Christmas. Especially since my girls' bodies did their things and got them healthy enough to really enjoy it.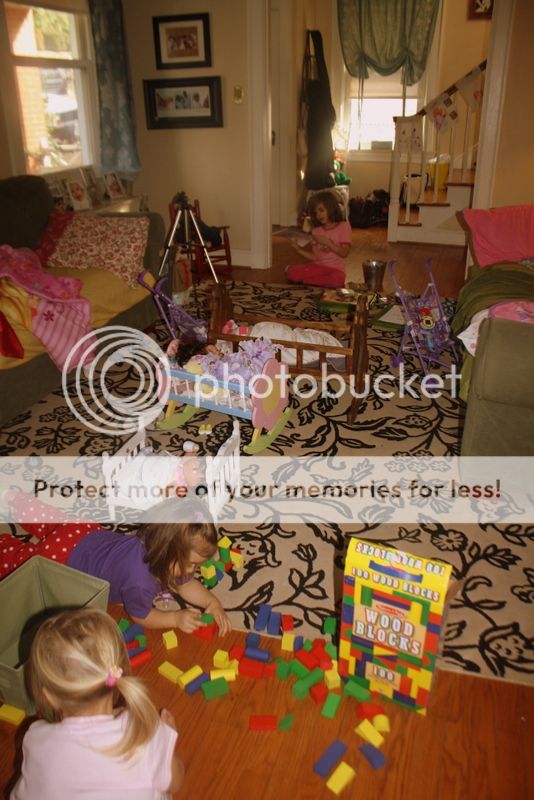 Lovely memory making to one and all.
Until 2013,
Katrina