Home and school is like a dance with a sometimes confused lead partner. But, that's kind of the beauty in it. We adapt and change based on what's going on or what sudden valuable teaching moments arise, even though most days we try to stick to what we need to accomplish. It provides great structure for my oldest girl; she's totally ready for and craves that.
Once fall is in full swing, there will be about two or three days where we're actually home all day so I picked a day like that. So far this is what an at-our-place day shapes up to be like:
8:30-9:00ish:
All girls are up! Ideally I like to be up before them, to squeeze in my work-out and quiet time, but this day was following a wonderfully full weekend and we were all pretty tired. Plus I am still recovering from Lyme stuff, and I have to listen to my body. Anyhoo, the big girls need to do their morning chores before coming downstairs.
Meanwhile, I have what is seriously one of my favorite bits of the day. Kissing these feet, while I get her ready. Little fingers and toes truly serve as my visible reminders of what has been entrusted to me. If I am upset with one of them, I try to remember to look at those tiny parts to give me some serious perspective.
Oatmeal is on the weekly rotation of breakfasty things. They munch and the big girls are expected to do a page of their handwriting books. Then we move on to morning devotion time- memory verse, reading, discussion, prayer. A cuppa joe for Mama.
10:00ish:
Literacy Block. But first, we sing us some "This is the Day" as our transition song from downstairs to the upstairs school room/guest room/play room/used to be Alysse's sleeping room. Once we reach the top, someone gets to hold the flag for the pledge. Gracious me, I almost ate Alysse after I took her picture.
Before we start our Word Study, we update our calendar and I introduce the girls to this week's "Discovery Boxes." These novel activities change weekly (and are either homemade, some of what we already have, or things like some new wooden puzzles I got for cheap); regardless, they are opportunities for educational and open-ended play. Mostly to occupy the younger girls when they aren't interested in what else we're doing, but Hope often uses her free time to explore them too.
This week's Word Study bleeds into the other part of our Literacy Block, Reader's Workshop, because Hope's recent reading showed her need for better understanding "silent e." I made her a little booklet and we added to our "Good Readers" chart that "they remember to use their reading rules." Afterwards we do our favorite part; light a candle, turn on soft music, and use learned strategies to read self-selected short chapter books (collected from the library, yard sales, cheap outlet stores like "Ollies," or consignment stores/Goodwill).
M and A work on the letter /Bb/.
We are also learning that good readers can tell you all about what they have read, so we changed things up to do a fun activity. I read aloud "Goldilocks and the Three Bears," knowing this would also intrigue the littlests, and then presented them with a basket for helping retell. Just to keep it real, Alysse wanted another book first and Hope snapped a picture.
Suffice it to say, I am not a glamorous looking teacher mama especially when I don't get up early enough to shower before it all begins. :)
Too hot! Too soft! Just right! And... ahhh! The bears are home!
Hope and I snuck to her desk to formally write a story map for retelling while M and A continued to play.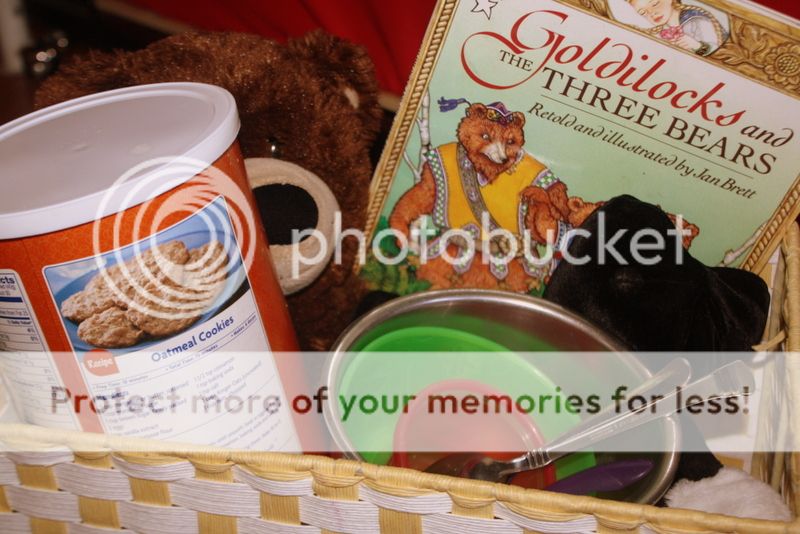 Idea inspired from this beautiful blog.
As a result, we spent the rest of the morning learning with bear audiences and oats for carpet until I squeezed in a good vacuum.
11:00ish:
Math and Science/SS Block. H and M try out new word problems over grapes and cheese, while learning to use drawing as a problem solving strategy. Afterwards, for a change of pace, we head downstairs and review yesterday's number sense lesson. Then we watch our math curriculum's DVD and spend some time practicing new place value skills.
As a side-note, throughout the morning, the littler girls wander off to do Discovery Boxes, read, or just play with their favorite toys. I expect and desire this, even if it gets me somewhat scattered occasionally.
Once we finish, we do some textbook reading about space. Then we use cardboard circles to figure out lots of things about the solar system. I really like lessons like this because they incorporate so much naturally! Estimating, ordering largest to smallest and vice versa, colors, shapes, reading, diagrams, art, sequencing, science vocabulary, and more. When it's all said and done we have something Hope has been wanting to create for a long time: a space mobile. It is now hanging from their bedroom ceiling, which I just love. The girls were so engrossed (and made such a mess!), we went for longer than the hour we usually spend on this block.
1:00ish:
Prayer and lunch. The girls and I talk and eat while they color and play. Sometimes, while they eat, I prep for the last of the day's activities or I read aloud to them. Today I decide to join in on the leftover Sunday's chili and actually sit my hindparts down.
Following lunch
, we do one of their favorite "electives"-- music! Though we typically have music going in our house and often incorporate art, I try to spend one day a week doing just music stuff and two days devoted to learning more about art. For now we are singing lots of old favorites and adding some new. I remember how valuable songs/rhymes can be for fluency... and fun! Here they are taking that itsy bitsy spider up the water spout along with some other newer tunes.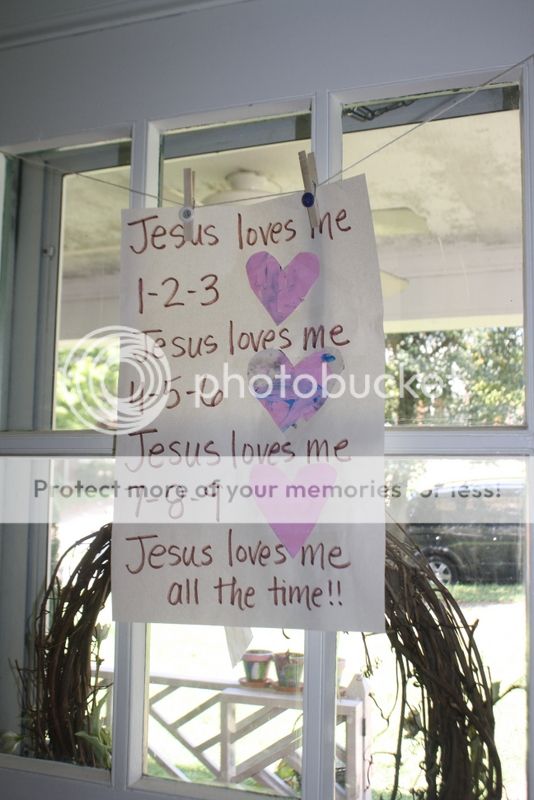 The small girls run off singing and playing, while Hope and I finish up the last of "school" for the day on the guest room bed. We add another strategy to our "Good Writers" chart and then she has some time to write in her Writer's Notebook. Sometimes we do this formally after lunch, sometimes we fit it in at the end of our Literacy Block, and sometimes I send her off for rest time to write. As she gets more comfortable and able to write for sustained periods of time, I'm excited to see what she comes up with!
2:00ish:
Rest Time! Thanks to the reminder from a play date last week, I've gone back to making this easy on myself. Everyone in their beds for at least one hour. No coming out to ask questions, no loud activities... just quiet things done from the comfort of their beds. It's a little tricky since all three girls share a room, but they overall do well. This day I spent that time catching up on what I didn't get to do in the early morning. Which, thank goodness, included a shower for my grease head!
Rest of the Afternoon:
If rest time has been successful, I usually give them about forty minutes or so to watch a video while I catch up on some household stuff , including my (finger's crossed!) daily load of laundry. Some apple slices, baby carrots, and "Word World" later-- dishes are done, laundry is shuffled, and other misc tasks completed including a tall glass of iced coffee.
Then we try to get outside for a long while. If this includes some frozen juice popsicles, all the better. When we tire of that, they come in to read or play around the house some more.
Evening chores, dinner, family time with Daddy, books, bedtime routines, and all that jazz take us through till the end when hopefully three little girls sleep peacefully all the night long.
The girls love being chosen as the mixer.
So there we have it! What things sort of look like so far, give or take the day or mood. No doubt we'll adapt as we go, but if I can answer any more questions I am happy to do so. One of my
favorite
jobs as a teacher was helping out other educators! :)
Back to those regularly scheduled bits next week.
And Learning Much,
~Katrina